Aly&AJ Talk 'Sanctuary,' Touring the World, and Their Highly Anticipated Return to Music [Q&A]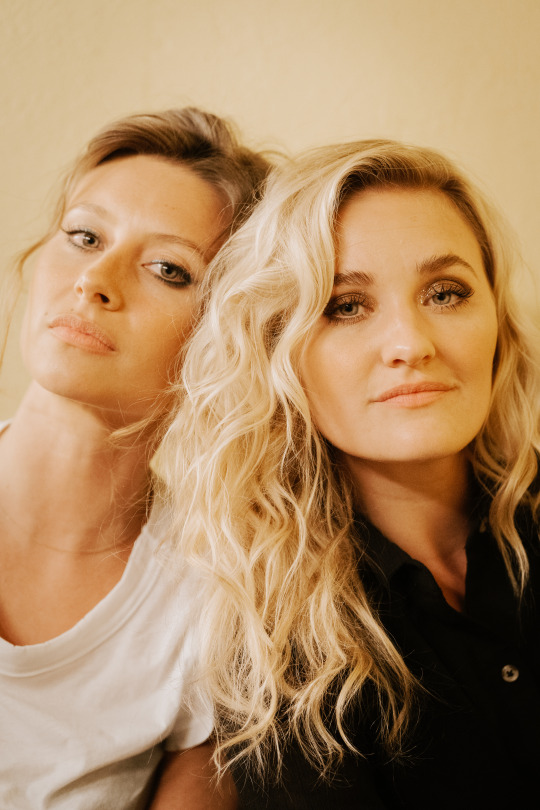 Beloved sister duo Aly and AJ Michalka carry an enormous amount of nostalgia. After breaking out as teen stars on Disney Channel, they launched a wildly successful pop-rock music career with their 2007 album Insomniatic. We know you listened to "Potential Breakup Song" to cope with your failed 7th grade relationship; we did too. After a decade of silence, they released the suitably titled Ten Years EP, delighting fans with their indestructible bond as sisters and updated synth pop sound. Their latest work, an EP titled Sanctuary, sparked their Sanctuary Tour, which took them all over the United States before heading to Europe for upcoming shows. Many of us grew up with Aly & AJ, making their return to music both evocative of our childhood and empowering as we see them evolve into something new.  

We met up with Aly and AJ in the green room of The Fonda, in actuality painted a Canary Yellow, where they played their first show ever over a decade ago. After getting some kisses from their pup Bix, we sat down to discuss how they find sanctuary on tour, the perks of releasing music independently and their fight against conversion therapy.
OTW: You two have been busy! Tell us about the tour so far.  
Aly: It's been awesome. We haven't had any blowout sister fights.  
AJ: Yeah for 40 cities in two months there was no drama. It was a really great run. So we're about to finish the US tour and head to Europe.
OTW: Where are you most excited to go in Europe?  
AJ: We're only playing five shows there, we're just kind of dipping our feet in that territory because we've actually never played in Europe. I'm really excited for London. We're playing Manchester, Dublin, Paris and Amsterdam and I gotta say I'm so stoked for Paris and Amsterdam.  
OTW: You two have been steadily on tour since May. Where do you find sanctuary when you're on the road?
Aly: Honestly having our dog around has been a massive sanctuary for all of us. Even the band would admit that it's been nice having a little buddy with us.
AJ: Oh he's completely been the emotional heartbeat of this tour.  
Aly: We also decorate our bunks and having books in there and inspirational cards and notes.
AJ: I have some polaroids posted and some twinkly lights and even some succulents. Honestly I just get in there and it's about sleep and rest and rejuvenating for the next show. Also good food. We're big foodies so finding great restaurants is a big thing for us.  
OTW: Is there a moment in your set that you look forward to?
AJ: I think "Church" is a special song and it opens the set. It grounds us and sets the pace for the show.  
Aly: It's hard to choose! We also love performing "Sanctuary." It's the second to last song that we perform and it says so much in terms of what it means to us and also to our fans. It's really like a love letter to our fans for sticking it out all these years and being there for us. It's also a safe place for them to come and be themselves, so it really works both ways which is really neat.  
OTW: Have you had any moments that stood out to you with fans during this tour?  
Aly: I think we've had a lot. One moment that we've had specifically was in San Diego the other night. We have The Trevor Project out with us on the road and we talk about them at every single show. We've been getting every audience to help by not only signing a petition to end conversion therapy, but to also donate to The Trevor Project. We've raised almost $40,000 which is really exciting, and last night someone came to our meet and greet and said "I appreciate what you guys are doing with Trevor Project because I was actually sent to conversion therapy. My family didn't approve of me being out and I think what you're doing is important." It struck a chord with AJ and I because we can be some small part in ending conversion therapy and making sure our fans are aware that that's still happening and shouldn't be.
AJ: We've had incredible fan encounters. It sounds cheesy, but in a weird way I think that's also been our sanctuary. It truly means so much that people have cared about our music this long and have continued to sustain the excitement seeing as we took such a big break.  
OTW: You guys are doing things independently. Why was that important to you?
AJ: I think it's given us a really clear-cut form of freedom to be independently putting out this music. Being that Aly and I have been doing this for so long and we have a lot of opinions of what we like and don't like, it's been important that this first batch of music comes out independently. It's given Aly and I the freedom to control where we want our career to head. We do work with AWAL, who distributes all of our stuff, and they've been amazing.
Aly: And it's given us the ability to try things and see the response, whereas I don't think that you get that in the record company umbrella. It's kind of like, you succeed or you fail which is really unfortunate because a lot of times being an artist takes an arc to find your sound. Especially for these EPs, it's been great to put them out independently. I think overall we wouldn't be opposed to being signed, it's just wanting to know that it's the right deal and doesn't take away our creative control. The goal is to continue releasing good music however that may be, and AJ and I have never been more proud of the music that we've made than these past two EPs.  
OTW: "Potential Breakup Song" and "Church" were released over a decade apart. How have your music tastes changed since the start of your career and how has that influenced your sound?
AJ: We've definitely grown a ton in this interim of taking such a large break. And I do feel like our taste has grown. We really leaned into 80s synth pop on the Ten Years EP and realized that a lot of the artists we were listening to were artists that we look up to from the 80s and early 90s. I wouldn't say one band dictated the sound but I do think there's a collection of singers from the 80s, male in particular, who drew out this sound in Aly and me.  
Aly: I feel like we also started to back off of the pop rock music that we were making when we were younger. I don't think that genre should exist. I think it should either be pop or it should be rock. If it's a rock song, let it be a rock song. It's kind of like saying "smooth jazz," like just say jazz ya know? As AJ and I go forward, I would like to see it lean slightly alt, but only time will tell what we're inspired by and who we collaborate with.  
OTW: You two have been juggling busy schedules, with both music and acting endeavors. Do you set aside time to write together or are there a whole lot of voice memos being texted back and forth?
Aly: It's all about trusting that our vision will come across even if it's one of us. We don't both have to be in the room to get a song finished or get it to a place where we're both really happy with it. If AJ can't come to the writing session or I'm unavailable, one of us will do the first day of the session and the other will come for the rest.  
AJ: The collaboration is constant. There have been so many times where I'm on the Sony lot in between takes listening to Aly talk about a new song or idea. There're no set rules, we make music however we need to make it and if that means that one is there and one is not, then that is what it is. The collaborative effort is always there.  
OTW: Can we expect a sibling collab with the Jonas Brothers?  
AJ: They're like number one right now!   I think we'd be open to it, but I'm not sure if they need us. I mean, if someone wants to campaign for it then sure. We were actually the first tour they were ever on.
Aly: Only OG fans know that, but yeah. It was Cheetah Girls for the first part and then later on they opened for us.  
AJ: I'll never forget how we all met. It was an East Coast show, freezing out, and they were in giant parkas eating lunch in a cafeteria space at a shitty venue. They were super sweet, we were all babies.  
OTW: Who are you Ones to Watch?
Aly: Honestly I think Armors are mine. Their music is great and they're all really great dudes.
AJ: I agree. My friend Hayley Orrantia is also one to watch. She just released an EP called The Way Out, about how she dealt with a horrible breakup. It's been a beautiful way for her to release some of the pain. If you've been through a bad breakup you should definitely give it a listen.

August 8, 2019