Get Your Dose of Post-Show Pizza in Ocean Alley's  11 BTS Photos [TOUR DIARY]
In 2013, Ocean Alley released their studio debut,  Yellow Mellow - EP, laced with funkadelic reggae guitars and soulful staked harmonies. Six years later, their sound has morphed into a fresh blend of new alternative and soft electric rock, still with those soul-stirring vocals and expansive lyricism.  
Experience the dreamy reality they've crafter  below with OA's ethereal new single and accompanying visual for  "Infinity:"
After wrapping up their North American tour, the six-piece shared 11 adorable BTS film photos with Ones To Watch, so strap in for a wild ride of hose showering, pizza eating, scooter riding, and beer drinking with these Aussie talents.

This was at the last show (32) in Anaheim and Lach made a bet with a friend on show 01 that he would shave 'mutton chops'. So here he is doing that.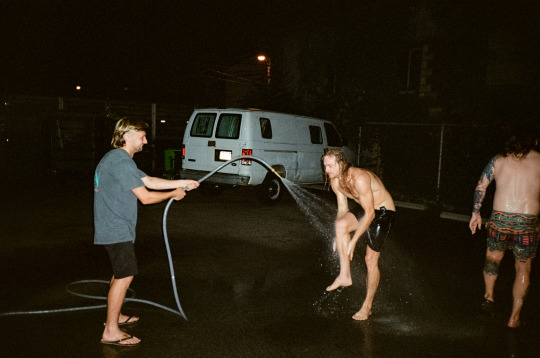 Showers are scarce on tour. This was after our show in Pittsburgh where Terry is helping out Dave.  

Pizza post show. A standard thing in the states for us.  

The boys outside our airbnb on the beach at Lake Michigan.

This was at Lee's Palace, in Toronto. We played a sold out show the same night the Raptors won. It was the craziest experience.

Chris & Terry at an Italian restaurant next to the venue in Montreal (Corona Theatre).  

Dave & Angus at Denver City Park. We always jump on limes where possible and ride around town to get coffee / food.  

Our home. This was in Regina, Canada on a travel day.

OA backstage at the Corona Theatre, Montreal.  

Angus & Terry using the street as our green room in Pittsburgh.

July 29, 2019