Yoke Lore Gives Us a Peek at the Man Behind the Banjo [Tour Diary]
Very few artists can genuinely impress me with a banjo. Even fewer can claim to be a favorite of Taylor Swift. Former Walk the Moon and Yellerkin member, Yoke Lore is one of those rare few. The solo project of Adrian Galvin, Yoke Lore's music sets itself apart from the very first strum, from the very first word uttered. Aiming to craft tactile pop music with sincere conviction, Yoke Lore's songs unfurl outward like stories unto themselves, growing with an honest and passionate intensity.
Yoke Lore's immaculate brand of pop is informed by a wealth of music traditions and a life lived. It is a rapturous experience that is best experienced live, and while we unfortunately do not have the proper VR technology quite yet, we have the next best thing to seeing Yoke Lore live. Taking us backstage during his most recent tour, we got to hang out with man behind the banjo.  

Underneath the legendary Blue Bird Theater in Denver before show

I wanna go on American Ninja Warrior

I like to layer but the layers never last the full set

Warming my fingers in my fleece getting my hands up to speed before show in Minneapolis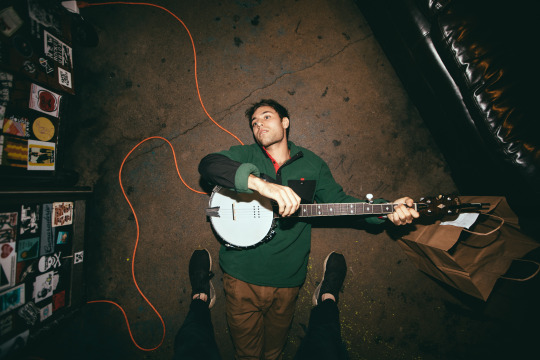 Me and my gold tone

Garren writes the set list before Minneapolis and writes it in a circular pattern so that its easier to read obviously

I'm hosting SNL

Escaping in Gotham

Outside Bottom Lounge in Chicago before the show

my true home

Birds of a feather melt faces together

Banjos really hate to be in tune
For more from Yoke Lore, revisit his enrapturing performance of  "Fake You" below.  
December 2, 2019