Michi Shares Her Knack for Tasteful Indie-Pop in Bubbly  "Still Feel U"  [PREMIERE + Q&A]
Photo Credit:  Ozzy Vidrio
Just a few miles northeast of downtown LA lives Michelle Guerrero, who goes by the stage name Michi. When Guerrero was reunited with her birth father at age 22, she found a confidence deep within herself to invest in her childhood interest in piano and guitar and pursue a musical career. Formerly a member of the alternative band Private Island, Guerrero made her solo debut as Michi earlier this summer with a sweet single, "Catch a Feeling."
Dropping yet another memorable track, Michi truly can't be stopped. "Still Feel U" is her newest offering and it's pure bliss. Singing about someone who leaves you in an inescapable state of infatuation, Michi's bubbly vocals perfectly contrast the throbbing bass lines. Even the whirring electronics in "Still Feel U" are enough to earn Michi a spot on your music radar.
On "Still Feel U," Michi exclusively shared with us,
"'Still Feel U' is a summer night embodiment of escaping a funk and rediscovering a lust for self-appreciation."
Ones To Watch has your first listen of "Still Feel U" below:
We here at Ones To Watch are proud to introduce you to Michi before her career takes off with a discussion of her debut single, her biggest aspirations, and "Still Feel U."
OTW: What thoughts were running through your mind when you introduced Michi to the world this summer?
Michi: Oh man, I bounced back and forth from the excitement of this project finally coming to exposure and feelings of self doubt. Ultimately, I'm on cloud nine doing what I love.
OTW: What's your favorite thing about living in Highland Park?
Michi: My fave thing has to be the presence of a Latino community. Being able to talk to my neighbors in Spanish, driving down parts of Fig where the ~true locals~ are playing Art Laboe out of a parked lowrider is an honest, heartwarming experience–especially for a gal of Latino descent.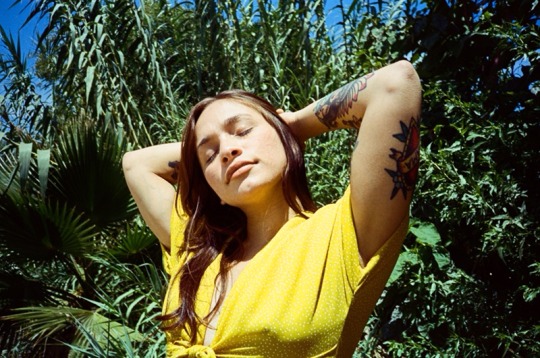 OTW: Why did you choose "Catch a Feeling" to be your debut single?
Michi: It felt the most "me." All cheese aside. Going through a highly pivotal time of change in my life, the song captured everything I resonated with–both melodically and lyrically. I felt it was important to stay true to what felt right. It's always captured the daydream I find myself in from time to time along with the bite that life brings too.
OTW: "Still Feel U" is about self-appreciation at its core. How do you remind yourself of your worth on a daily basis?
Michi: Taking the time to connect with myself through elements of creativity or social company remind me of my worth on the daily. My parents and friends are a huge part of my fulfillment I find every day, forever embracing me in all states of life.
OTW: What's your favorite lyric from "Still Feel U" and why?
Michi: My favorite line has to be, "Whatcha think about me, want me to kill all my identities I had before?" And it's because it captures the essence of desperation to be changed and transformed by being open to leaving what was and opening oneself up to the new.
OTW: How does making music as a solo artist compare to your work with Private Island?
Michi: It's been a growing, and at times very challenging, experience in comparison to being in Private Island. Having full creative control partnered with the support of a talented, trusting, and honest producer such as Jake Munk has been the most self-liberating experience, but my PI boys will forever have a special place in my heart that I am thankful for.
OTW: What are your biggest aspirations as a musician?
Michi: My biggest aspirations as a musician have to be moving my audience through lyrical growth and confidence of whatever it is that speaks to me, not just love. Oh, and getting good at guitar would be peachy too, haha.
OTW: Who are your Ones To Watch?
Michi: My Ones To Watch have to be Swedish-pop duo Morabeza Tobacco, as well as Thom Gillies' from TOPS solo project known as Blue Material. Both are killer. Keep an ear on 'em!
Follow Michi on socials:
Pre-save "Still Feel U" here.
August 22, 2019