Catching Up with COIN: One of Indie-Pop's Greatest Blessings [Q&A]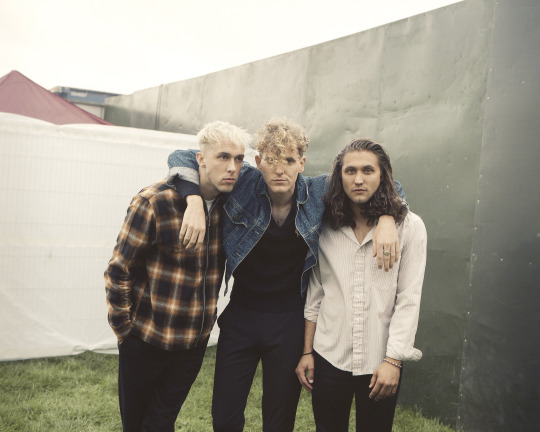 Photo Credit: Thomas Wood
From their infectious debut album in 2015 to their Ones To Watch presented headline tour last year, we've been more than supportive of COIN's creative mission. The indie-pop outfit from Nashville is comprised of lead vocalist Chase Lawrence, drummer Ryan Winnen, and lead guitarist Joe Memmel–all of whom joined forces in 2012 while studying at Belmont University. Who could've possibly expected these three young bucks to one day dominate the indie-pop scene with such determination and drive?

Well, apparently these guys had a good feeling they'd be changing at least a few lives with their otherworldly bangers. Reflecting on their humble beginnings with their debut single, COIN credits "Run" as a meaningful track that taught them how to successfully connect with their live audiences. "Run" was soon played on radio stations worldwide and COIN saw themselves opening for numerous shows where the energetic crowds were naturally drawn to their upbeat melodies and cheerful guitar riffs.
From the get go, COIN has been a beloved project that never sought fame or fortune, but rather music lovers who could resonate with their thoughtful lyricism and optimistic instrumentals. A few years ago, the talented trio had a moment of realization when a group of devoted fans followed them to several cities on their second headlining tour. From that point on, COIN realized how much they've really grown since 2012.
In 2018, COIN embarked on a nationwide tour (presented by yours truly) that was nothing short of a great time. As they performed a generous selection of their indie pop discography, including hits like "I Don't Wanna Dance" and "Talk Too Much," COIN never took a single moment for granted. Even now, COIN's live energy has snagged them slots at major music festivals like Lollapalooza, Austin City Limits, and Life is Beautiful and given them the honor of opening for The 1975 and Young the Giant.
On top of more touring plans for the remainder of this year, COIN has been eagerly wrapping up their next highly anticipated project, which they've disclosed as a full-length album. Although they haven't announced the official track list just yet, we wouldn't be surprised to find their 2018 hits, "Cemetery" and "Simple Romance," on the record.
Since they've been one of our favorite indie pop bands for what seems like forever, it's only right that we recently caught up with COIN to discuss their significant growth, evolving pre-show rituals, and their next album.
OTW: It's undeniable that COIN has quickly become a staple in the indie pop scene. At what point did you guys realize you made the right decision by forming a band?
COIN: That's a really neat way to pose that question. I think we knew from the beginning that something was special, but we were just operating from the gut intuition that the three of us had musical chemistry. That feeling obviously predated having any fans, so the hope was then to find people who were willing to listen. We really started to see that it was "right," or that it started to have a unique purpose, in 2017 on our second headlining tour when a specific group of fans continued to show up in nearly every city and give us more than we could've ever dreamt of. The symbiotic relationship had begun and we still see those people today–they're like family. And that's not to say that anything was "wrong" before, but again, you can only make music for yourself for so long until you realize that you need the voices of others to tell your story more intimately. Our fans have a really amazing way of doing that. It's more communal for us than just writing a song.
OTW: How have you guys grown as a band since your debut single "Run" in 2015?
COIN: "Run" was a song that taught us how to better engage our listeners and in turn, provide a specific energy to the shows. When the song came out, we were opening for a lot of bands and it was also the first song that was being played on the radio. There was a sort of "prove yourself" element in the live show at this time that we still play with today. We didn't have a loud, singalong type song that forced us to play to the front of the room and to the back of the room at the same time before "Run." Because it preceded "Talk Too Much," it inspired us to write even "louder" songs for people to sing with us. It taught us how to write and play with the voices of the crowd in mind.
OTW: You guys have been releasing quite a few singles in the past year or so... Can we expect a new project announcement soon?
COIN: The album is done and it is coming!! We're so thrilled and have never been more proud of anything. It says everything we've ever wanted to say.
OTW: What was your arena tour with Young the Giant and Fitz and the Tantrums like?
COIN: It was wonderful. Both bands and their crews were amazingly hospitable. We learned a lot. We'd never done a really long, somewhat arduous summer tour on which you're playing outside every day in 90+ degree heat. It was also a unique experience to be opening the show. It sort of placed a youthful energy back into our show because we had to present ourselves the best we knew how to in just 30 minutes.
OTW: In a 2017 interview with us, you guys said your show rituals include singing Mario's "Let Me Love You" and giving each other high fives. Does this still hold true? Have you guys introduced any new pre-show traditions?
COIN: Haha! The song changes from tour to tour. Right now, there's no song. We huddle up, breathe deeply and enter each new space with gratitude for each other and all of the people present at the show. We've simplified our pre-show ritual to being thankful for the fact that we get to do this every day. It's pretty wild and somehow often overlooked.
OTW: If you could perform anywhere in the world, where would you pick? Who would be your openers?
COIN: We've started to dip our toes into international touring and have really loved our trips to Asia. Korea is probably our favorite place in the world right now but we would love to play in mainland Europe next.
OTW: Who are your Ones To Watch?
The band Dayglow and the band Arlie. Both pals of ours who make wonderful music.
August 15, 2019